Watch EPA Region 1 Soak up the Rain Webinar "Building Greener Futures: Green Jobs Training and Bioswales in New Haven, CT" recorded in January 2021.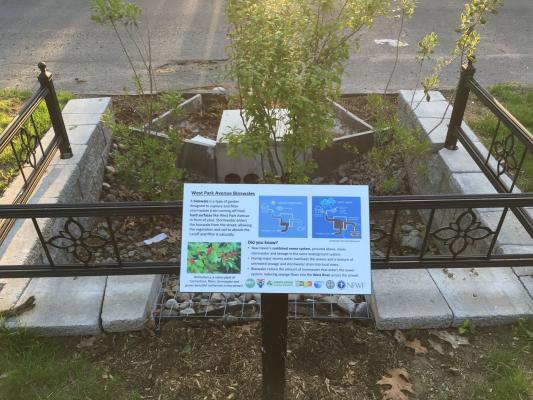 One of eight bioswales on West Park Avenue.
Watersheds within many American cities encounter unique stresses, while sharing common characteristics and following natural laws of all water systems. Urban watersheds are often polluted, heavily engineered, and little understood by nearby residents. This results in urban floods, community health impacts, and threatened ecosystems. Though all city residents are impacted, low-income neighborhoods and communities of color are often hit the hardest. These stresses come from centuries of public policy and city planning decisions, including the historic design of industrial piping that overlooked natural waterways. The increased vagaries of rainfall patterns due to climate change (annual precipitation in Connecticut has increased by 0.95 inches per decade since the end of the 19th century), and the expansion of impervious surfaces due to urbanization have worsened the situation.
Urban watershed stresses affect New Haven's ecosystems, infrastructure and population. After rainstorms, stormwater floods certain residential and public areas, such as the downtown train and police stations. Impassable roads present a security issue, especially near the police station. Public and private funds bear the maintenance and reparation costs and inconveniences. In addition, each year 257 million gallons of combined sewage carrying heavy metals, excess nutrients, sediment and human waste flow into surface waterways and eventually discharge into the Long Island Sound. This has negative effects on these ecosystems and limits public recreation activities.
As cities emerge from a period when they ignored their rivers and harbors, new relationships are being developed with adjacent waterways. Past practices that marginalized waterscapes are being reevaluated, and there is more attention to urban environmental quality. Urban initiatives across the U.S. have turned towards a range of "green infrastructure" technologies, of which many have demonstrated profound social and biophysical benefits. The EPA defines green infrastructure as "a cost-effective, resilient approach to managing wet weather impacts that provides many community benefits." Green infrastructure technologies include: rainwater harvesting, rain gardens, bioswales, green roofs, street trees and much more. In Portland, OR and Philadelphia, PA, green infrastructure is financed and maintained by multilateral parties within the municipal government.
While the hydrologic impact of green infrastructure varies by storm, bioswales and cisterns have proven to collect large quantities of stormwater; on average, together they capture 77% of street runoff and bioswales alone capture 56 % of street runoff. Seasonality may affect bioswale functioning when leaves remain along the street, blocking inlets, and are not effectively removed by street sweeping operations. Trash, leaves, dirt, and other debris can block the opening to bioswales, and a layer of fine sediment from stormwater runoff prevents fast infiltration if not consistently removed and maintained. New Haven's sandy soils allow for fast infiltration, and if bioswales are maintained they are expected to capture much greater percentages of total stormwater accumulated. In cities like New Haven that are considering sewer separation, bioswales may serve as a cost-effective alternative to this expensive and disruptive procedure, and even be used in tandem with these efforts. 
Numerous partners including URI, New Haven's Department of Engineering, EMERGE, Greater New Haven Water Pollution Control Authority), NFWF (National Fish and Wildlife Foundation), Common Ground High School and Yale School of the Environment have contributed to several green infrastructure projects reliant on bioswales. This includes: The West River Park Project (2014-2015), the Newhallville Project (2015-2016), and the Downtown Watershed Project (2018-present). A bioswale is an engineered planted area designed to capture and infiltrate stormwater from impervious surfaces. New Haven's bioswales are located on sidewalks and capture stormwater as it flows down the street during rain events. Stormwater enters the bioswales through a curb cut, allowing the vegetation and soil to absorb the runoff. The approach relies heavily on community engagement to partake in understanding, designing, caring for the bioswales through direct contact with adjacent property owners, educational signage for many of the bioswales, and posting monitoring results on the URI website.
These initiatives will have long-term benefits to the local communities and ecosystems. They will reduce storm water flooding in residential and public neighborhoods, decrease contaminated discharge into the Long Island Sound, advance academic scholarship (through publications in peer-reviewed journals), and engage local communities to become more knowledgeable and effective stewards of their environments.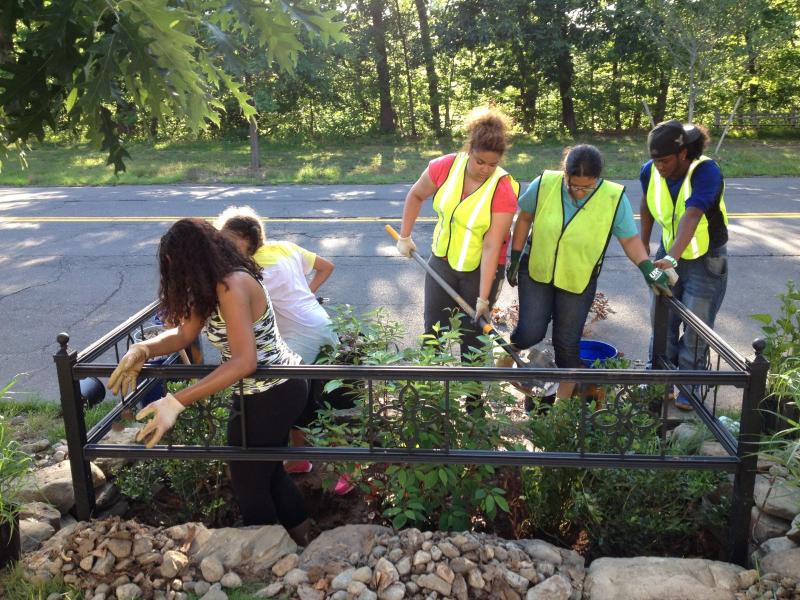 Common Ground students weeding a bioswale on West Park Avenue.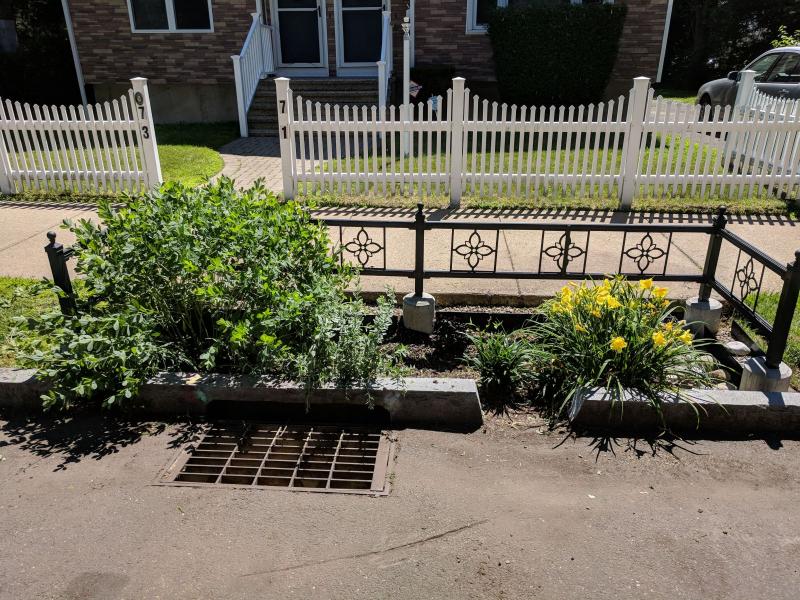 Completed bioswale in Newhallville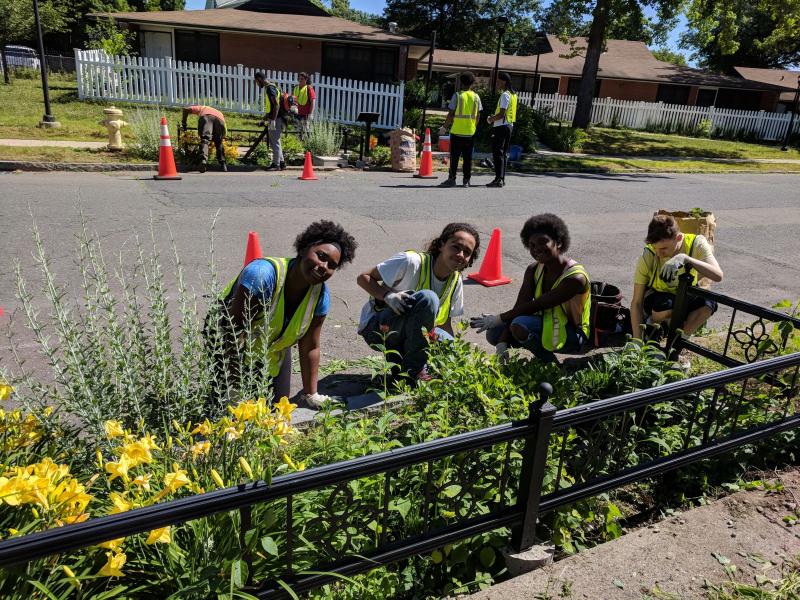 Common Ground students weeding a bioswale in Newhallville