Forging University-Municipality Partnerships Toward Urban Sustainability
About the Conference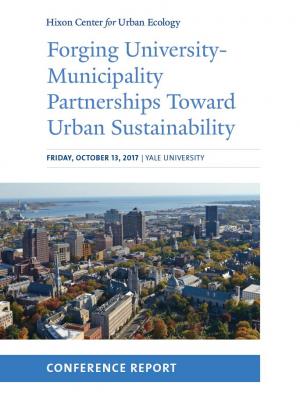 The conference was co-convened by Yale Hixon Center for Urban Ecology, Yale Office of Sustainability, and the City of New Haven.  The goal of the conference was to inspire progress by sharing successful examples of university-municipality collaboration on sustainability efforts. Three sessions were organized around individual thematic panels, each of which included four cities with paired speakers representing universities and municipalities describing a collaborative project. The event attracted an audience of students, faculty, community members, and sustainability professionals.
Location: Burke Auditorium, Kroon Hall, 195 Prospect Street, New Haven, CT 06511. This event was open to the public.  
The conference's thematic panels with speakers representing universities and municipalities include:

Leading in Partnership with New Haven Mayor Harp, Yale University President Salovey, Madison Mayor Soglin, and University of Wisconsin Vice Chancellor Hoslet

Transportation (Mass Transit and Bicycling) with Madison, Davis, Providence, and Minneapolis

Stormwater and Resilience with Cambridge, Pittsburgh, Birmingham, and Baltimore

Climate Action with South Bend, Vancouver, Boulder, and Ann Arbor

Schedule of Events
Welcoming Remarks
Leading in Partnership
Transportation Panel
MADISON, WI + UNIVERSITY OF WISCONSIN
DAVIS, CA + UNIVERSITY OF CALIFORNIA-DAVIS
PROVIDENCE, RI + BROWN UNIVERSITY
Martina Haggerty, City of Providence
Special Projects Director, Department of Planning and Development
MINNEAPOLIS, MN + UNIVERSITY OF MINNESOTA
Lunch (provided)
Stormwater, Flood Management and Resilience Panel
BIRMINGHAM, AL + UNIVERSITY OF ALABAMA AT BIRMINGHAM
Brian Pillay, Ph.D., University of Alabama at Birmingham
Professor and Chair, Department of Materials Science and Engineering
BALTIMORE, MD + UNIVERSITY OF BALTIMORE
PITTSBURGH, PA + CARNEGIE MELLON UNIVERSITY
Anna Siefken, Carnegie Mellon University Scott Institute for Energy Innovation
Associate Director for Innovation & Strategic Partnerships
Climate Action Panel
ANN ARBOR, MI + UNIVERSITY OF MICHIGAN
Jenna Jorns, Ph.D., The University of Michigan
Program Manager, Great Lakes Integrated Sciences and Assessments (GLISA)
BOULDER, CO + UNIVERSITY OF COLORADO
David Kang, University of Colorado Boulder
Vice Chancellor for Infrastructure and Safety and the Chief Facilities Officer
VANCOUVER, BC + UNIVERSITY OF BRITISH COLUMBIA
Victoria Smith, University of British Columbia
Director Communications and Engagement, UBC Sustainability Initiative
Closing Remarks
Action Social hosted by TsaiCITY (Center of Innovative Thinking at Yale)
Building on the energy and ideas generated in the conference panels and discussions throughout the day, there will be time to chat and network with fellow delegates and speakers to talk about what could happen next! All event attendees and their colleagues welcome.