Conference on Urban Green Infrastructure:
About the Conference
Watch the recorded morning sessions.  Watch the recorded afternoon sessions. 
Cities are increasingly vulnerable to acute shocks such as heat waves and major flooding.  As one part of the response, green infrastructure solutions can offer a wide array of environmental, economic and social benefits to cities – while also posing challenges and raising new questions. 
The goal of the 2018 Hixon Center Conference is to share the latest thinking on the science behind, the operation of and the sources of funding for green infrastructure – while surfacing and exploring questions that are in the most need of answers. 
We will explore these topics through four panels addressing the following broad questions:
What is the latest science telling us about the performance of green infrastructure, particularly for managing water, temperature and health outcomes?
What are managers of green infrastructure systems seeing in terms of costs and benefits from green infrastructure in action?
What new sources of funding are being developed across different combinations of:

Public sources of funding?
For-profit sources of finance?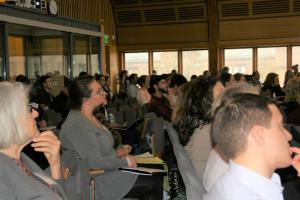 Schedule of Events
Registration and Breakfast
Coffee and a light breakfast will be provided.
Keynote
Panel I: Actionable Science: Green Infrastructure Performance
What is the science telling us about the opportunities and challenges for green infrastructure (GI) to help cities improve their performance on water, temperature and public health issues? How should we be thinking across scales–from individual GI installations to networks of GI units across different neighborhoods in a city? What are the major questions that still need to be answered as cities think about investing in green infrastructure, either alone or in combination with more traditional/ "grey" infrastructure? 
Gaboury Benoit, Ph.D., Yale School of Forestry & Environmental Studies
Grinstein Class of 1954 Professor of Environmental Chemistry, Professor of Environmental Engineering
Coffee Break
Panel II: Perspectives on Operations: Addressing Green Infrastructure Costs and Capturing Benefits
How are existing green infrastructure installations working in cities and at company facilities? In what circumstances are they meeting performance standards at a lower cost than more traditional apporaches–and where are they not? Are they meeting applicable regulatory standards–and where are they not? What are the most pressing questions facing efforts to improve the benefits and address the costs of their operational performance? 
Jennifer Molnar '04 MEM, The Nature Conservancy
Managing Director and Lead Scientist, Center for Sustainability Science
Lunch
Panel III: Public Funding
What sources of public funding are most used by cities when installing green infrastructure? What are the limits on those sources? What new and additional sources can and should be explored or created? 
Panel IV: Private Funding
How are cities tapping into private sources of finance to help fund their green infrastructure work? What are the limits on those sources? What new and additional sources can and should be explored or created? 
Closing Remarks
Colleen Murphy-Dunning, Hixon Center for Urban Ecology
Director
Reflector