The purpose of Urban Ecosystem Module ("Urban Mods") is to familiarize all incoming YSE students with field methods for analyzing urban ecosystems. Students spend their Urban Mod week studying the urban ecosystem of New Haven, and are led by instructors from the Yale Hixon Center for Urban Ecology. Over the course of the Mod, students are exposed to a variety of field methods and skills: using dichotomous keys to identify trees, surveying New Haven's urban forest by measuring diameter at breast height and other key attributes, observing park use patterns and dynamics, mapping sewersheds in the context of grey and green infrastructure, employing basic water chemistry to analyze water quality in one of New Haven's watersheds, and restoration work in the form of invasive weed removal and tree planting. As much as possible, the Urban Mod skill building activities are designed to impart knowledge to our incoming students, also called MODsters, while also providing practical help to Urban Resources Initiative and the City of New Haven.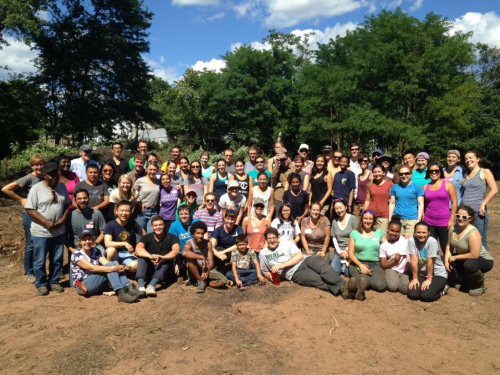 After each day's scheduled activities, we have evening programming designed to give incoming students ample opportunity to meet each other while introducing them to New Haven as their new home. Delicious al fresco pizza and farm-fresh salad are part of the welcome dinner at the Yale Sustainable Food Project Farm. MODsters get to know each other while getting to know the coastline at Long Wharf, with a view of the industrialized New Haven Harbor.  MODsters have a chance to eat from a local food cart and get acquainted with each other and one of New Haven's finest parks.
The Urban module is intended to complement the Yale-Myers Forest Ecosystem Measurement Module, which examines lesser developed ecosystems.  Another important difference is that the Yale-Myers Mod focuses on the scientific method and quantitative analysis, while the Urban Mod gives qualitative analysis greater prominence.  The Urban Mod also strives explicitly to examine issues related to scale, both spatial and temporal. Importantly, both modules share a focus on the ecosystem as a framework and unit of analysis. The Urban Mod also includes geospatial elements in the tree survey and watershed mapping exercises. By the end of all three Mods, our MODsters are ready to join the Yale School of the Environment as the newest class of students.